Health, Wealth & Happiness
Has the Prosperity Gospel Overshadowed the Gospel of Christ?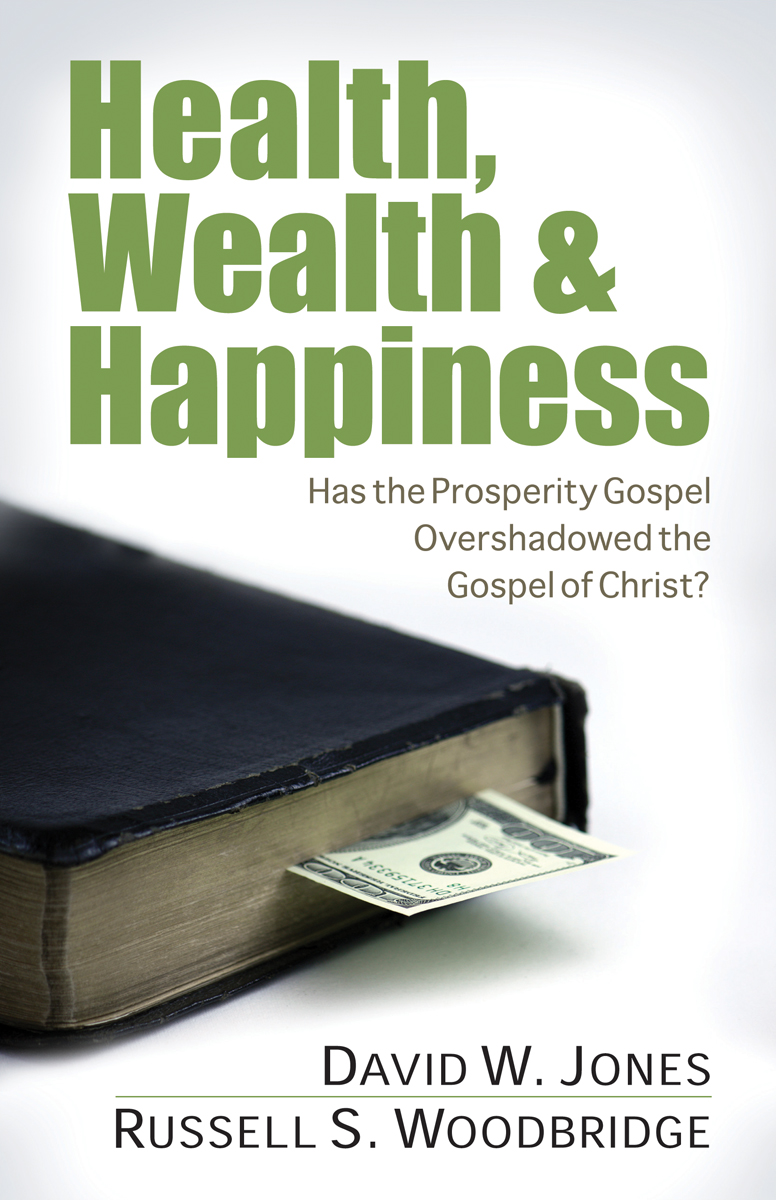 Product Information
Price: $17.99
ISBN: 9780825429309
Edition: December 17, 2010
Pages: 208
Carton quantity: 64
Publication date: December 17, 2010
Format: Paperback
Imprint: Kregel Publications
Category: Theology and Religious Studies
Health, Wealth & Happiness
Has the Prosperity Gospel Overshadowed the Gospel of Christ?
The desire for a thriving, healthy, and productive life is as strong as ever, especially in tough economic times. As people become more disillusioned at the state of the economy, they also become more susceptible to the lure of the prosperity gospel and its teachings of health, wealth, and happiness for the faithful. But what happens when the promise of prosperity overshadows the promise of the real gospel--the gospel of Christ?

Believing that the prosperity gospel is constructed upon faulty theology, authors David Jones and Russell Woodbridge take a closer look at five crucial areas of error relating to the teaching of wealth. In a fair but firm tone, the authors discuss the history and theology of the prosperity gospel movement to reveal its fraudulent core biblical teachings that have been historically and popularly misinterpreted, even by today's most well-known pastors, including T. D. Jakes, Joel Osteen, and Kenneth Copeland. After an introduction and assessment of the movement, readers are invited to take a look at Scripture to understand what the Bible really says about wealth, poverty, suffering, and giving.

Theologically sound but acessible to all readers, Health, Wealth & Happiness is sure to become a trusted resource for laypersons, pastors, and Christian leaders.

Endorsements:
"The prosperity gospel is a false gospel, and prosperity preachers are false prophets. This book is as clear as that--and persuasive--but it is even more. Jones and Woodbridge have written a simple, careful account of the new religion that is sweeping Asia, Africa, and the Americas. And they've provided a fair, biblical, and searching critique. I'm sad to say that this book is desperately needed; I'm thankful that it's now available."--Mark Dever, Senior Pastor, Capitol Hill Baptist Church, Washington, DC

"In a work that is long overdue, Drs. Jones and Woodbridge deal the prosperity gospel a fatal blow through their thorough research and irrefutable documentation. The authors, blending biblical theology with persuasive wit, create a rare blend that will appeal to both the layperson and theologian. Churches wrestling with the destructive doctrine of the prosperity gospel now have a staunch advocate and ready defense that clearly delineates God's will on such matters." --Emir Fethi Caner, President, Truett-McConnell College, and coauthor of Unveiling Islam

"The prosperity gospel is neither prosperous nor is it the gospel as defined by Scripture. Simply put, it is a false teaching and a dangerous heresy. This book, written by two dear friends and superb biblical scholars, carefully and accurately investigates, critiques, and exposes the biblical and theological errors that pervade this movement. This is an important and valuable work. I pray for its wide distribution and reading."--Daniel L. Akin, President, Southeastern Baptist Theological Seminary

"In this book Jones and Woodbridge have given us the truth about the prosperity gospel. This brief survey is remarkably clear and concise, providing both the historical background and biblical critique of this movement. Their treatment is fair and balanced, penetrating to the heart, and it reveals the danger of the prosperity gospel. I highly recommend this well-written book."--Benjamin L. Merkle, Associate Professor, Southeastern Baptist Theological Seminary, and editor of 40 Questions & Answers Series

"A great, balanced approach that is both biblically rigorous and in touch with current issues. An invaluable resource for those wishing to deal with this subject with accuracy and clarity. Very gospel-centered."--J. D. Greear, Lead Pastor, The Summit Church, and author of Breaking the Islamic Code

"I praise God for the release of this book. It is a reliable resource for all who want to understand the destructive nature of the prosperity gospel movement. Jones and Woodbridge carefully point out [the prosperity movement's] major biblical errors and call attention to the presence of erroneous concepts found in prosperity theology. By exposing these errors, as well as interacting with some of the leading proponents of the prosperity movement, Jones and Woodbridge have provided a wonderful resource to hand to those who've bought into a counterfeit gospel, and for pastors who desire to protect their flock from wolves. May God use this book to direct people to the only true gospel, and to the Savior, who is Himself our inheritance and our treasure."--Tony Merida, Teaching Pastor, Temple Baptist Church, and author of Faithful Preaching and Orphanology

"This book is long overdue. The authors rightly warn us that the prosperity gospel has eclipsed the true message of the cross in many pulpits. Sadly, much of evangelicalism has been duped by a message that sounds biblical, but on closer examination is seen to be heretical. I pray that this book will help correct this error."--Erwin W. Lutzer, Senior Pastor, The Moody Church
Author:
David W. Jones (PhD, Southeastern Baptist Theological Seminary) serves as associate professor of Christian Ethics and coordinator of Th.M. and Thesis Studies at Southeastern Baptist Theological Seminary. The coauthor of God, Marriage and Family, David is a frequent speaker at churches, ministries, and conferences. He lives in North Carolina with his wife and four children.