Jonathon M. Seidl
is the founder and president of The Veritas Creative, a digital media consulting and content creation firm. For the last decade he has been telling stories. In fact he's written over 6,000 of them, first after helping start a top-50 news site, then as the editor-in-chief of the popular non-profit
I Am Second
, and recently creating and overseeing Kirk Cameron's media venture,
TheCourage
. Jon has seen how the power of storytelling can transform people, businesses, and culture, especially after sharing his own story of battling anxiety and OCD. His passion is to help people with mental health struggles, while also sharing what he's learned telling stories for--and working with--some of media's biggest names and organizations, including Glenn Beck, Kirk Cameron, and Chip and Joanna Gaines.
His experience in digital media is vast, from serving as the head of digital at a new media startup to hosting Kirk Cameron's The Campfire podcast. His writing has appeared on
I Am Second
,
The American Spectator
, and Fox News. Jon graduated with a degree in politics, philosophy, and economics from The King's College in New York City. He currently resides in Dallas, TX, with his wife and two children. More about Jon can be found at
jonseidl.com
.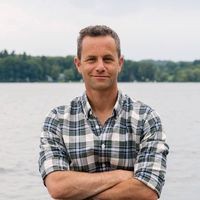 Kirk Cameron is an actor and producer. He captured America's hearts as the lovable Mike Seavers in the wildly popular ABC sitcom, Growing Pains. Since then he's starred in dozens of films, including Monumental, Left Behind, and Fireproof. He speaks nationwide on the topic of gospel-centered marriage and family, and lives in California with his wife, Chelsea, and their six children.