C. S. Lewis once described Christians as being "outside of the world, the wrong side of the door." But as long as we are here on earth, we need only knock on God's front door to speak with Him.
In this beautiful book, Jill Briscoe writes several short dialogues with the Father as she sees His hand at work in the diverse circumstances of life. She covers everything from the big problems—war, separation from family, and the divorce and remarriage of a child—to the more every day problems—interruptions in one's hectic schedule and disappointments with people. God's Front Door is a very human book and Jill speaks openly and honestly about her fears and failings.
"It's a privilege to recommend this book for your pleasure, enrichment and inspiration."
—Ruth Bell Graham
Written by very well-known author
Color illustrations throughout
Excellent gift for Mother's Day, birthdays, etc.
Author: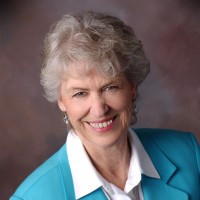 Jill Briscoe is a highly sought-after teacher and author who travels around the world speaking at international seminars and conferences. Jill has authored more than forty books including devotionals, study guides, poetry, and children's books. She serves as Executive Editor of Just Between Us, a magazine of encouragement for ministry wives and women in leadership, and served on the board of World Relief and Christianity Today, Inc., for over twenty years. Jill and her husband, Stuart, live in Brookfield, Wisconsin.