A guide for students and pastors to aptly interpret and communicate the messages of the prophetic books
Preaching from a prophetic text can be daunting because it can be difficult to place these prophecies in their proper historical setting. The prophets used different literary genres and they often wrote using metaphorical poetry that is unfamiliar to the modern reader. This handbook offers an organized method of approaching a prophecy and preparing a persuasive, biblically based sermon that will draw modern application from the theological principle embedded in the prophetic text.
Author: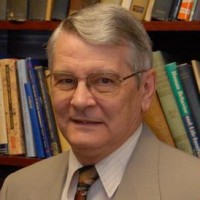 Gary V. Smith is professor of Christian Studies at Union University in Jackson, Tennessee. Prior to Union, Dr. Smith taught Old Testament and Hebrew at Midwestern Baptist Theological Seminary in Kansas City Missouri from 1998-2004. For two years he served as the Interim Academic Dean at the Seminary.

Prior to coming to Midwestern, Dr. Smith taught Old Testament and Hebrew at Bethel Theological Seminary in St Paul, Minnesota from 1983-1998. Prior to coming to Bethel Dr. Smith taught Old Testament and Hebrew at Winnipeg Theological Seminary from 1973-1983. For two years he was the Interim Dean of the Seminary.

Dr. Smith did undergraduate work at Wheaton College and received his Bachelor of Arts in Anthropology in 1965, the Master of Arts from Trinity Evangelical Divinity School in 1968, and his Doctor of Philosophy from Dropsie College for Hebrew and Cognate Languages in Philadelphia in 1973. He has completed academic research in Jerusalem, Israel and in Cambridge, England.

Dr. Smith's areas of expertise include the Old Testament Prophets, especial Amos and Isaiah, plus the books of Ezra, Nehemiah, and Esther. He is a member of the Evangelical Theological Society, the Institute for Biblical Research, and the Society of Biblical Literature.

Dr. Smith and his wife Susan live in Jackson, Tennessee. They have two children and five grandchildren.