When his son was diagnosed with a disabling mental illness, John F. Baggett experienced a journey of grief unlike any other—a grief for the loss of all his son would never be and that he, as a father, would never experience.  Through that difficult period he learned that grief—by whatever definition and for whatever reason—can be a time of momentous spiritual struggle: it is no smooth sailing even for faithful Christians.  How then can believers navigate the struggles of faith that so often accompany personal tragedy?
Finding the Good in Grief is both a practical and inspirational guide that teaches readers to learn, change, and grow through their grief. In five stages, Baggett demonstrates how to:
Trust God and rely on others
Choose reality instead of illusion
Resist the temptation to get stuck
Recognize moments of grace
Discover new meaning and purpose
Finding the Good in Grief will help CHristians successfully negotiate faith struggles that often accompany the different stages of grief and will encourage them to find and develop spiritual resources to survive their darkest days of emotional turmoil.  Most of all, it will guide them to understand that God does have the power to transform events of radical suffering and to use them for good in our lives.
Author: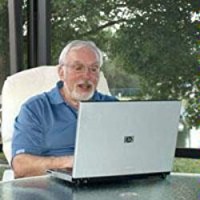 Rev. Dr. John F. Baggett (MA, PhD, University of North Carolina at Chapel Hill) is a pastor, counselor, and mental health professional who has served as a United Methodist pastor in Kentucky, Tennessee, and Chicago for more than a decade. He has served as executive director of The National Alliance for the Mentally Ill of North Carolina and as director of The North Carolina Division of Mental Health, Developmental Disabilities, and Substance Abuse Services. A member of the American Association of Christian Counselors, the Association of Christian Therapists, and other pastoral associations, Baggett is the author of Seeing Through the Eyes of Jesus and a contributing author to the Handbook of Mental Health Administration and Management.