Conquering the Fear of Failure
Lessons from the Life of Joshua
Product Information
Price: $17.99
ISBN: 9780825439056
Edition: April 25, 2011
Pages: 184
Carton quantity: 96
Publication date: April 25, 2011
Format: Paperback
Imprint: Kregel Publications
Category: Christian Living and Devotionals
Conquering the Fear of Failure
Lessons from the Life of Joshua
The fear of failure afflicts us all. It erodes faith, deflates courage, and prevents victorious living. But fear
doesn't have to haunt us anymore. In this newly repackaged edition of his popular book, best-selling author and beloved pastor Erwin W. Lutzer offers a healing alternative that releases Christians from attitudes of defeat.

Using lessons from the life of Joshua, Lutzer teaches what Christians can do every day to see the promises of God fulfilled in their lives. From learning to listen to the right voice to living with a bad decision, from embracing the power of prayer to overcoming obstacles, this handbook will guide readers through the pitfalls of spiritual growth. "My prayer is that through studying Joshua we all will take one more giant step toward spiritual maturity," writes Lutzer. "In the process we shall discover that God is all-powerful and worthy of our trust."

Written in the tone that made Lutzer a best-selling author of more than twenty books, Conquering the Fear of Failure shows readers how to focus on God and His promises, not upon circumstances or setbacks, so we may live a faith-filled, victorious life.
Author: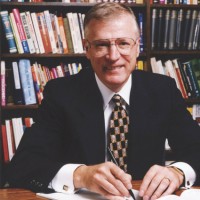 Erwin W. Lutzer (ThM, Dallas Theological Seminary; MA, Loyola University; LLD, Simon Greenleaf School of Law) is senior pastor of the historic Moody Church in Chicago, as well as a popular conference and radio speaker. His many books include The Doctrines That Divide, How You Can Be Sure That You Will Spend an Eternity with God, and One Minute After You Die.