In a world full of noise and distractions, finding silence and solitude so you can connect with God is difficult. Angus Buchan explains the importance of making this time a priority: It is the place where you receive strength and energy, where you are refreshed and made new. He shares touching anecdotes from his own life, and recounts stories from great Christian men and women through the ages to illustrate the importance of intimacy
with the Father.

The more time you spend with a person, the more you become like that person. Often, the disciples couldn't find Jesus--He had withdrawn to wait on the Father. When He came back He released the reign of heaven: the sick were healed; captives were set free; miracles, signs, and wonders took place. The place of intimacy is the place where we become more like Jesus; it is the place where we learn to lean on the Father.
Author: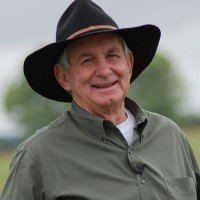 Angus Buchan is a farmer in South Africa whose profound faith has carried him through many crises, both professional and personal. He shot to international attention in the wake of the book and film Faith Like Potatoes. He has filled the largest stadiums in South Africa to capacity and has spoken to sizable audiences around the world. Angus is perhaps best known for The Mighty Men Conference, which gathers over 200,000 Christian men.