How to Pray in the Spirit
Thirty-One Devotional Readings on Personal Prayer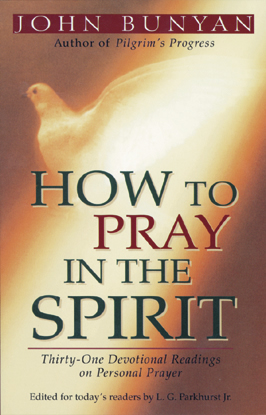 Product Information
Price: $12.99
ISBN: 9780825420856
Edition: October 23, 1998
Pages: 144
Carton quantity: 120
Publication date: October 23, 1998
Format: Paperback
Imprint: Kregel Publications
Category: Christian Living and Devotionals
How to Pray in the Spirit
Thirty-One Devotional Readings on Personal Prayer
From the author of the classic Pilgrim's Progress, this devotional book will give you deeper understanding and greater freedom of expression in your personal relationship with God. Bunyan's dying words on prayer will stir the heart of readers and are only a sampling of Bunyan's insight.
Available in Spanish
Author:
John Bunyan (1628-1688) was a Puritan preacher and writer born in Elstow, England. He wrote Pilgrim's Progress during his twelve-year imprisonment in Bedford jail. Upon his release, he became the pastor of a church in Bedford, England.