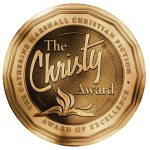 GRAND RAPIDS, MI--
The 2023 Christy Award winners were announced on November 16 during the ECPA's virtual Christy Award Gala. Two Kregel titles were named winners among nine fiction categories, with one selected as the Christy Book of the Year.
Within These Walls of Sorrow
by Amanda Barratt was named the Christy Book of the Year. The novel, set in Poland during World War II, also won in the Historical category. Amanda Barratt's meticulous research and lush writing shine in this moving look at a group of unsung heroes who fought for hope and humanity in the most harrowing of times. Other historical fiction authors describe Barratt's novel as, "sensitive and courageous," "superbly written," and "heartrending."
The Forgotten Life of Eva Gordon
by Linda MacKillop tied with
The Extraordinary Deaths of Mrs. Kip
by Sara Brunsvold (Revell/Baker Publishing Group) in the First Novel category. In her novel, Linda MacKillop addresses difficult issues like memory loss and aging in a warm-hearted and engaging way. Christine Kindberg, Christy Award-winner, describes the novel as "Splendid! Anyone living with regrets will appreciate the gentleness and grace of this story, and the permeating sense of love that will stay with you long after the final page."
The Christy Award Gala was held via webcast on November 16 at 7 p.m. A complete list of winners can be found on their
website
.
###
The Christy Award is a program of the Evangelical Christian Publishers Association (ECPA) and is the foremost award honoring and promoting excellence in Christian fiction since 1999. It is named for Catherine Marshall's novel, Christy, which has sold over ten million copies since its publication in 1967.
Kregel Publications is an evangelical Christian publisher that aims to develop and distribute--with integrity and excellence--trusted, biblically based resources that lead individuals to know and serve Jesus Christ.