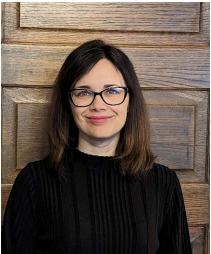 GRAND RAPIDS, MI
-- Tech-savvy leader Kristina Vandiver has joined Kregel Publications as the director of Kregel Academic and Ministry (KAM). In this role, along with leading the KAM team, Vandiver will help lead strategic marketing and editorial initiatives for these imprints.
Kristina (pictured, left) is a veteran marketing professional with experience managing teams at the intersection of Christian publishing and technology. She specializes in strategic leadership, process and system improvements, data-informed decision making, business development, and creative integrated content marketing campaigns. During her years at Faithlife with Logos Bible Software and at Lifeway with Wordsearch, she worked closely with many publishers and education institutions to acquire content that would engage believers in relevant ways.
Kristina looks forward to being part of Kregel Publications, especially during this post-pandemic time of disruption. "Challenges can be reframed to opportunities," she says. "I came to faith through books and want to offer that same opportunity to others through important, life-transforming content."
Building on Kregel's reputation as a trusted, biblically based, independently owned publisher, Vandiver will grow its content through multiple formats. "We are excited to have Kristina join us to lead out KAM initiatives," says Jerry Kregel, president of Kregel Publications. "I appreciate her engagement with the ever-changing publishing landscape."
"Kristina is a great new addition to our Kregel team," adds publisher Catherine DeVries. "I'm eager to see our award-winning, engaging content increase its presence across a wide variety of formats and platforms. Kregel is more committed than ever to be wherever people are, however they consume content."
###
Kregel Publications is an evangelical Christian publisher that aims to develop and distribute--with integrity and excellence--trusted, biblically based resources that lead individuals to know and serve Jesus Christ.