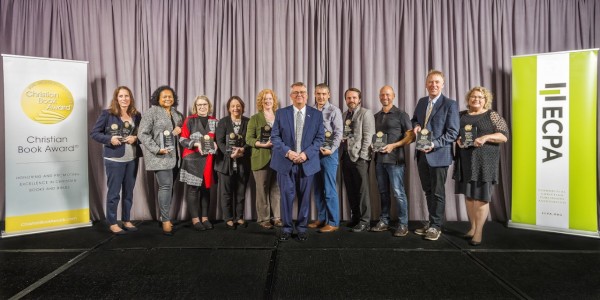 FOR IMMEDIATE RELEASE
GRAND RAPIDS, MI -- Kregel Publications is pleased to announce that
With Fresh Eyes: 60 Insights into the Miraculously Ordinary from a Woman Born Blind
, by Karen Wingate, has won the 2022 Christian Book Award in the devotion and gift genre.
Winners for all categories were announced on May 3, 2022, at the ECPA Awards celebration dinner, held in Philadelphia at the ECPA Leadership Summit.
Kregel publisher Catherine DeVries (pictured, far right) holds the 2022 Christian Book Award for
With Fresh Eyes
, standing among other publishing industry executives also celebrating their authors' accomplishments.
With Fresh Eyes
invites readers to reawaken to the wonder of what they observe in creation--great and small--and how God is working in everyday moments. After a lifetime of restrictive chronic blindness, Wingate shares her refreshing reflections of a world that many of us view as ordinary. Each chapter reshapes perspectives about the everyday wonders we often take for granted.
See the full list of winners at
ChristianBook.com.
###
Kregel Publications is an evangelical Christian publisher that aims to develop and distribute—with integrity and excellence—trusted, biblically based resources that lead individuals to know and serve Jesus Christ.