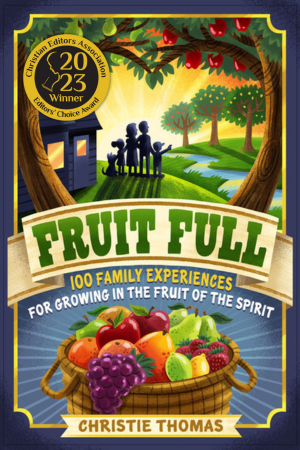 GRAND RAPIDS, MI --
At PENCON 2023, the Christian Editors Association (CEA) announced four winners of their annual Editors' Choice Award, among which was
Fruit Full
by Christie Thomas, published by Kregel.
For this award, both the author's expertly written prose and the editor's meticulous attention to detail are recognized. Both Christie Thomas and Kregel editor Janyre Tromp were celebrated in this announcement.
Concerning the award, editor Janyre Tromp said, "What a great honor to be recognized for excellence by my fellow editors. Not only is
Fruit Full
an engaging book for families, it's a perfect example of what we at Kregel produce in our entire line--books that support biblical faith in real, culturally relevant ways."
Fruit Full
is a family devotional for parents and their kids to enjoy as they learn about living out the fruits of the spirit. With weekly activities and thought-provoking questions, everyone in the family will glean insights from its biblically rich pages.
See CEA's full press release
here.
###
Kregel Publications in an evangelical Christian publisher that aims to develop and distribute--with integrity and excellence--trusted, biblically based resources that lead individuals to know and serve Jesus Christ.