"Pitch-perfect research and incomparable heart paint every corner of the brilliantly colored canvas of When Stone Wings Fly. Readers, get ready: your newest split-time fiction experience rests in the hands of a master."--Rachel McMillan, author of The Mozart Code
Kieran Lucas's grandmother is slipping into dementia, and when her memory is gone, Kieran's last tie to the family she barely knows will be lost forever. Worse, flashbacks of her mother's death torment Granny Mac and there's precious little Kieran can do to help.
In 1931, the creation of the new Great Smoky Mountains National Park threatens Rosie McCauley's home. Rosie vows the only way the commission will get her land is if they haul her off in a pine box. When a compromise offers her and her disabled sister the opportunity to stay for Rosie's lifetime, her acceptance sets her apart from the other mountain folk. And the bond she's forming with ornithologist and outsider Benton Fuller only broadens the rift.
Eighty-five years later, Kieran heads back to the Great Smoky Mountains National Park to find answers to her great-grandmother's mysterious death and bring peace to Granny Mac before it's too late. Park Historian Zach Jensen may be the key to locating both the answers. But what Kieran needs clashes with the government regulations Zach is sworn to uphold. Can she trust God for a solution to heal this generations-old wound?
"Barnett's tale set in the Great Smoky Mountains flows as smooth as wildwood honey. The two timelines are stitched together like alternating blocks of a quilt passed down through the decades, keeping family connected and rooted."
--Sarah Loudin Thomas, award-winning author of The Right Kind of Fool
Author: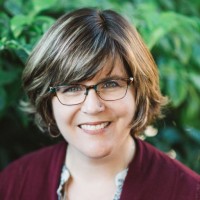 Karen Barnett
is an author and speaker, and was formerly a park ranger with the National Park Service and a park naturalist. Her other books include
The Road to Paradise, Where the Fire Falls
, and
Out of the Ruins
. She's also a hobby photographer and is heavily involved with both Oregon Christian Writers and West Coast Christian Writers. She and her family live in Albany, Oregon. Visit Karen online at
karenbarnettbooks.com
.