Written for reading level 2.0-2.8, the Circle C Beginnings series combines fun illustrations and six-year-old Andi's signature curiosity.



In Andi's Circle C Christmas, Andi's fun holiday break is spoiled when a grumpy, bossy visitor arrives. No more running. No catching spiders. No wearing overalls. But just when Andi thinks the fun is lost forever, she learns that she can help this unwelcome guest in a way she never imagined.
Author: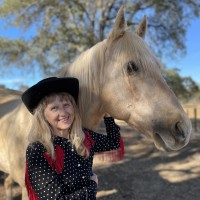 Susan K. Marlow is always on the lookout for a new story, whether she's writing books, teaching writing workshops, or sharing what she's learned as a homeschooling mom. The author of the Circle C Adventures series and the Circle C Beginnings series, Susan enjoys relaxing on her fourteen-acre homestead in the great state of Washington.