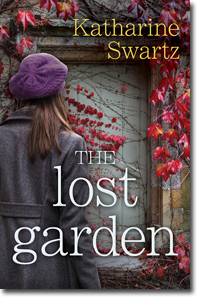 Wisdom in Books
" I love the dual story line and the glimpse at how each character deals with the tragedies in their life."
Reviews from the Heart
"I would rate this one a 4 out of 5 stars in my opinion and look to future novels from Katharine Swartz in the future."
Leah's Good Reads
"The story flows- even going back and forth between the time periods. And I found myself caught up from the start."
Window to my World
"You may cry. You may laugh. You may experience many things you didn't expect. Enjoy the journey!"
Book Reviews from an Avid Reader
" The end was sweet with promise of hope for the future."
By the Book
"The Lost Garden will make the reader think. And in my case, want to hop on a plane and head to the windy coast of Cumbria!"
Indoor Garden Musings
"I am looking forward to the next book."
Christian Chick's Thoughts
"This is my first time reading a Katharine Swartz novel, but I'm sure it won't be my last. 5 stars."
Bless their Hearts Mom
"he takes the tale of a lost garden, that we all knew from childhood and flips it on it's proverbial ear, giving the reader a fresh take on a grown up version of what is lost and found! Don't miss this one!"
Blooming with Books
"I highly recommend this story, though you may what to have a box of tissue nearby while reading."
Tammy's Book Parlor
"A sweet story with just enough romance, adventure and family togetherness to make this a wonderful read!"
Life With Katie
"There's just something about the author's writing style that tugged hard at my heart strings."
Vic's Media Room
"This is a wonderful story that shows that life can begin again if you are willing to put the effort into what you value as important in your life. "
Lyons Lady
"This is a warm story and has depth of meaning and characters as everyday as your neighbor might be. "
The power of words...
"Highly recommended to those who enjoy relational drama with rich characterization."
The Old Crow's Empty Nest
"I was fascinated by two women facing finding themselves, experience loss, adjusting to change, learning to love and forgive, but more than 100 years apart."
Found a Christian By His Grace
"
The Lost Garden
is a very dear story, told with fine attention to detail."
Christian Arts Connection
"The book impressed me with its well written dialogue, often using vernacular, and Swartz's strong descriptive style with metaphor that puts us in the setting and gives clear understanding of what the characters are experiencing."