When Words Fail. . . LOVE!

Five million people are living with Alzheimer's disease today—not to mention the 60–80 other forms of dementia—and that number could rise to 15 million by 2050 if a cure is not found.
One in three senior adults die with Alzheimer's disease or another form of dementia.
Every 66 seconds someone develops Alzheimer's disease.

These staggering statistics from the Alzheimer's Association are more than statistics: they're people. They represent millions of people facing dementia head-on each day. Whether it's a family member, friend, work colleague, or neighbor, you know someone who's affected, even if you don't know it yet. Dementia is touching us all, and it has come to church.
Just imagine your Bible is sitting next to you on your nightstand. You're upset and worried but don't reach for it to comfort and guide you. You no longer remember what it is or how to use it . . .
Imagine you're overwhelmed with fear but can no longer initiate a prayer to God for peace. Even the Lord's Prayer has escaped your memory . . .
Imagine loving to sing, but you can no longer spontaneously begin to sing the words or hum the tunes of hymns you've sung your whole life . . .
You need help.
According to the 2014 U.S. Religious Landscape Study by the Pew Research Center, almost 72 percent of people over 70 consider their faith to be very important. So when those who are living with dementia can no longer practice their faith in ways that bring them comfort, peace, hope, and a feeling of belonging to their faith community, we need to help. Without us, vital connections are lost.
Whether someone remembers that we visited is not important. What is important is the visit itself. What is important is living in the moment with someone who has a dementia disease. In that moment we show our love for them and remind them of God's love and presence. What is important is creating a sacred space and helping them tap into their faith. Even if they forget the visit five minutes later, those are vital moments of connection they have with you—and with God through you.
We may not know how to respond to the increasing need for love and compassion someone living with dementia or their caregiver experiences, but God knows and ministers through us. Through loving embraces, patience, and presence, we can share God's love with more than words.
When words fail . . . we simply need to love.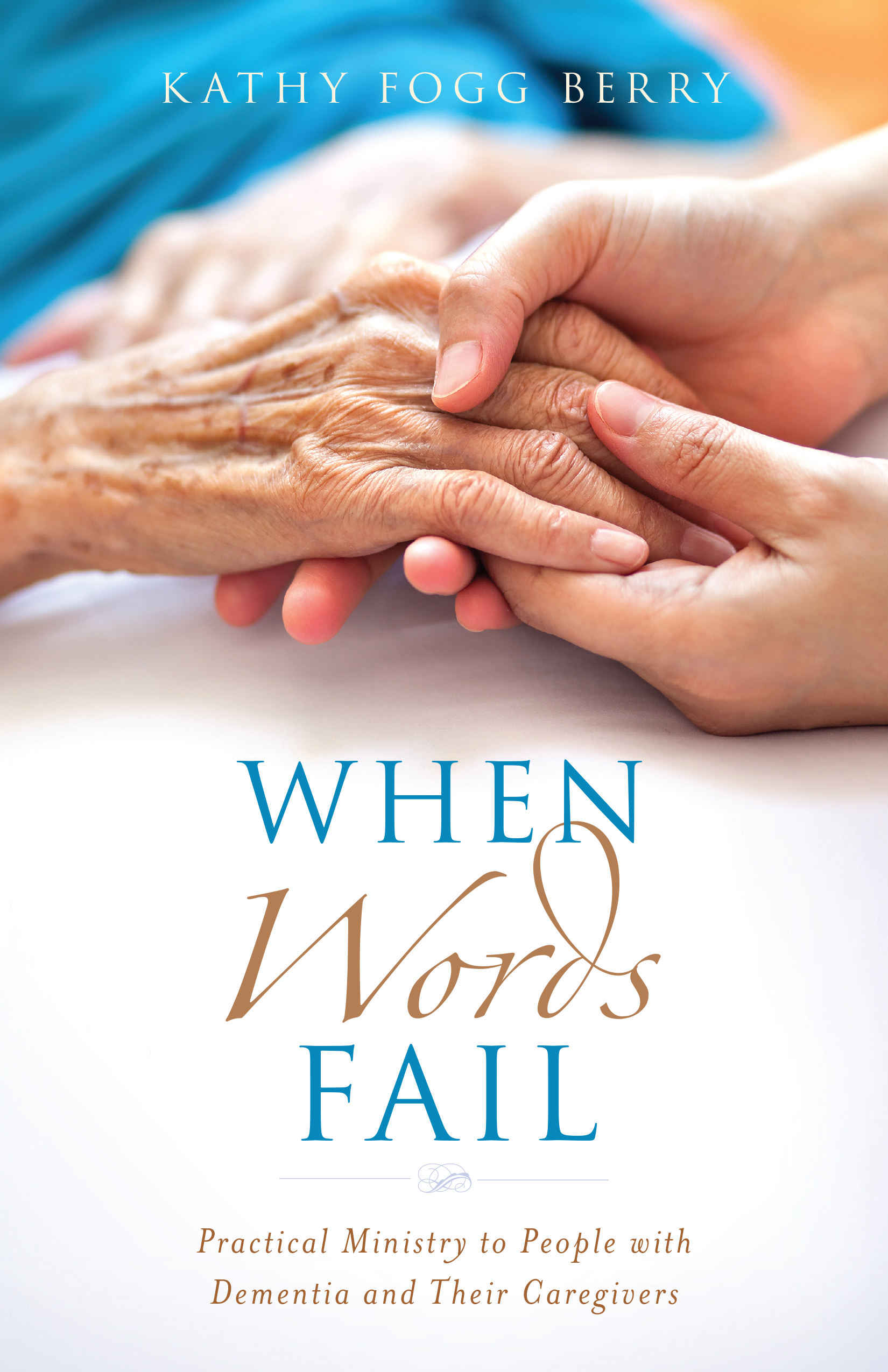 When Words Fail
Kathy Fogg Berry
Millions of Christians suffer from dementia diseases such as Alzheimer's, making ministry to them difficult as they lose memories and the ability to communicate. Drawing on her years of experience as a long-term care chaplain, Kathy Berry provides practical information and tools to equip ministers and lay leaders to meet the spiritual and pastoral needs of those living with dementia.