Thriving as the Dad of a Child with Special Needs

I wasn't ready to be the father of a child with special needs. Who is ready?

One moment I was an up-and-coming thirtysomething whose life was aligning with the American dream, just as planned. I had a happy marriage, a successful career, and a new home, and my wife and I were expecting our first child. Everything was on track for the future I had imagined.

Then my world exploded.

We celebrated the birth of our "perfect" son—only to realize, as the months passed, that things weren't as perfect as we had thought. Little by little, a heartbreaking reality took shape. Our son wasn't achieving typical milestones. He wasn't developing as expected. One doctor visit led to three. Eventually a diagnosis was made, and then another and another. Finding out that our son would face lifelong, profound special needs was my own personal Hiroshima.

Everything I had hoped for, dreamed about, and so strategically planned was blown to bits. I realized that nothing about raising my son was going to be as I had expected—no playing catch in the backyard, no training wheels or bike rides, no shooting hoops in the driveway after dinner, no vacations to the beach, no University of Tennessee football games enjoyed together—nothing I had envisioned.

My son's diagnosis landed squarely on my heart. I was torn apart mentally and emotionally. I was powerless and easily overtaken by grief and fear. It would take years for me to get my bearings, accept my mission, and engage the fight, but I did so—and so can you.

Your journey as the dad of a child with special needs will be as unique as you are, but maybe your world has been torn apart too. Maybe your dreams have been shaken, and you're not sure how you feel. Maybe you don't feel anything at all, and if you do, you're hesitant to express your feelings in words.

You probably find that your thoughts are a turbulent concoction of fear, disappointment, and even rage. You have difficulty focusing. Some days you teeter on the edge of freaking out. Other days you want to crawl into a cave and escape.

Maybe you're angry, but you're not sure who you should be angry with. Maybe you're afraid. Mostly you're overwhelmed, disappointed, frustrated, and confused. I would bet you feel pretty alone right now. How do I know?

Because that's exactly how I felt when I was drafted for this mission. I found myself caught in the middle of a conflict I never dreamed I would have to engage. I had no idea I had been specifically chosen for this assignment. I had no idea there was a plan and a purpose in all the chaos. I had no idea that one day I would recognize that my son with special needs was the best gift I had ever been given.

I've been a special-needs dad for almost twenty years now. I feel like a pro. But I was an absolute disaster of a dad in those early years. I'm not proud of that, but I am grateful that the grace of God transformed me and turned me into a warrior for my son and others with special needs. For years I asked God to change my son and heal him. In his sovereignty God decided instead to use my son to change and heal me.

If your journey is anything like mine, you're already shaken, so let me give you one thing to focus on now. There will be time later to deal with everything else, but let's start with the one thing that will matter most.

To be a successful dad to your child with special needs, you must wholeheartedly accept your mission.

Your mission is this: embrace your child exactly the way God created him or her. Love your child unconditionally and passionately, with all your heart.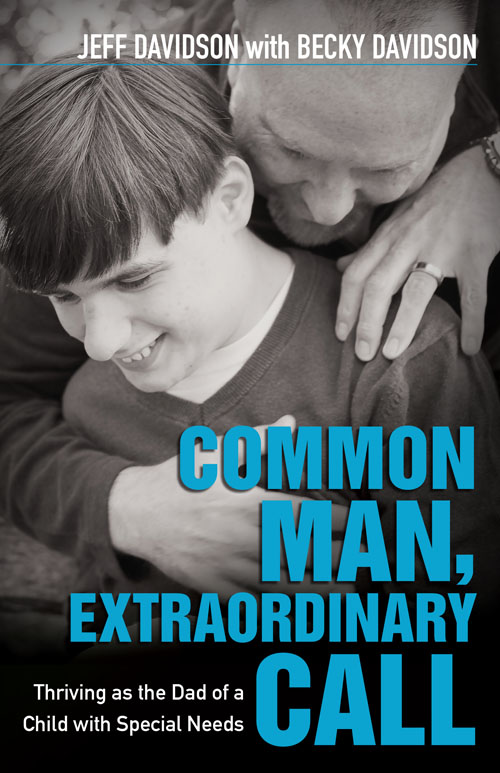 Common Man, Extraordinary Call
Jeff Davidson
As a twenty-year veteran of special-needs parenting, Jeff Davidson wrote a field manual to give fathers the skills required for the day-to-day demands of parenting. Jeff helps men discover God's new mission for their lives in each of five specific roles: warrior, protector, provider, encourager, and equipper. He offers rich, real-life examples from dads in the field and a no-nonsense approach from initial diagnosis onward. This book is filled with practical how-tos for parenting in the special needs world, bullet points for easy reading and quick reference, and a Mission Critical synopsis at the end of each chapter.