Barriers to Intimacy with God
Fear is one of the most significant barriers to feeling close to God. It is true that we are to have a deep sense of fear of and respect for the Lord, and sinners must fear the danger of God's judgment. This does not mean we should have an unhealthy anxiety born out of a fear of God's rejection or judgment.

Fear can immobilize us. As close as the disciples were to Jesus, they had a fear of moving toward intimate knowledge with Him. After healing a man's demon-possessed son, and while everyone was amazed at God's greatness, Jesus pulled His men aside and said, "Let these words sink into your ears; for the Son of Man is going to be delivered into the hands of men" (Luke 9:44 NASB). Yet it is clear that they just did not comprehend, because Luke records, "But they did not understand this statement, and it was concealed from them so that they would not perceive it; and they were afraid to ask Him about this statement" (Luke 9:45 NASB; see also Mark 9:32).

They were fearful of pursuing the significance of this profound statement any further. Maybe they were afraid of sounding or looking foolish. Maybe they thought they should have known. Regardless, to ask Jesus was to risk losing acceptance and worthiness in His eyes, and possibly in the others' eyes. Nevertheless, even if it wasn't clear or revealed by the Holy Spirit at that time, asking for intimate knowledge from the Lord is not a sin. He may or may not choose to reveal personal information to His people. And yet, if we are impertinent and disrespectful in our requests, that kind of questioning doesn't deserve an answer.

Fear can come from interacting with a caricature of God rather than with who He really is. Jesus addressed this in the parable of the minas in Luke 19 and the parable of the talents in Matthew 25. Because the Jews thought the kingdom of God would appear immediately (Luke 19:11), Jesus used these parables to encourage them to work faithfully until the kingdom comes. However, they behaved like the foolish slave and were burying the wealth the Master had entrusted to them. Why? Jesus indicates it was because they viewed God as a harsh Master. This slave's excuse for hiding the money in the ground was simply, "I was afraid of you, because you are an exacting man; you take up what you did not lay down and reap what you did not sow" (19:21 NASB; see also Matt. 25:25). There obviously is no intimacy here.

Jesus simply indicated that the slave was afraid of his master. Was he afraid of failing his Master and His ensuing judgment? Was he unnecessarily intimidated by Him and by His stature? Yet the Master was encouraging ("well done"), fair ("faithful in little, faithful in much"), and generous ("authority over ten cities"). Unlike Zaccheus in the previous verses who repaid his defrauding four times over (Luke 19:8), these fearfully paralyzed people hoarded rather than invested.

Paul clearly delineates the drastic difference in Romans 8:15: "For you have not received a spirit of slavery leading to fear again, but you have received a spirit of adoption as sons by which we cry out, 'Abba! Father!'" (NASB; see also Gal. 4:6). The spirit or mind-set of a slave is to be afraid of their Master. However, not only does salvation in Christ Jesus make us right with God, but He adopts us as His own children! There is no fear here.

Blessedly, fear is banished by the reality of God's love. In one of the Bible's most significant passages concerning the Christian's confidence before God, John declares in 1 John 4:17–18 (NASB) the black-and-white contrast between love and fear:

By this, love is perfected with us, so that we may have confidence in the day of judgment; because as He is, so also are we in this world. There is no fear in love; but perfect love casts out fear, because fear involves punishment, and the one who fears is not perfected in love.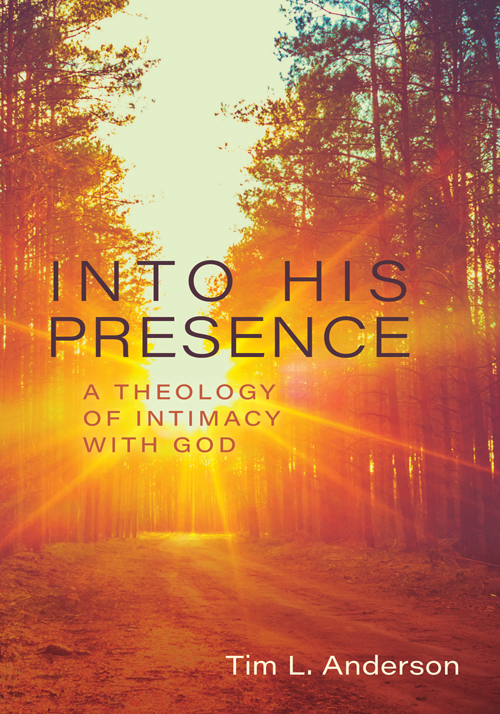 Into His Presence
Timothy L. Anderson
Numerous Christian books aim to provide guidance on relationships with God, but few base their conclusions on a biblical theology of intimacy. In this volume, Tim Anderson develops a biblical and holistic portrait of nearness to God, exploring key themes like God's Trinitarian union, the fall, God's fatherhood, marriage imagery, suffering, and our relationship with the Holy Spirit. A concluding chapter examines contemporary Christian songs that address oneness with God and evaluates their theological messages in light of the previous chapters. Into His Presence is a helpful guide for pursuing intimacy with God and distinguishing contemporary cultural understandings of close relationships from those communicated in Scripture.