Equipping Christians to understand and befriend Muslims
Tens of millions of Muslims live in the West. As a group they are ethnically diverse, culturally rich, and often wonderfully passionate about life and faith.
Unfortunately, as Christians we often segregate our lives from Muslims. We may be fearful, or--worse--inherently suspicious of them. But what we have to share with Muslims is magnificent and potentially life-changing, and we live in a day of unprecedented opportunities to interact with Muslims from around the world. This book will help you build open-hearted friendships with Muslims.
For readers with zero knowledge about Islam and no existing relationships with Muslims, don't worry; this book is for you. This fascinating introduction to Islam covers demography, theology, culture, politics, justice, and other aspects of Islamic identity, and includes stories and examples. Reaching Muslims is something we can all do, and it begins with friendship.
Author: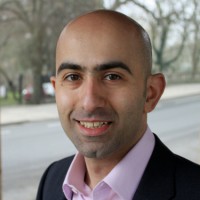 Part of the leadership team at Emmanuel Church, Oxford, Nick is a Cambridge graduate, a McKinsey alumnus and a gifted evangelist. Having recently completed a MA at Wadham College Oxford, he began a DPhil in September 2009. He is an associate of Ravi Zacharias International Ministries and a frequent visitor to the USA.