A profound and beautiful guide to the life of prayer from a leader in the 24-7 Prayer movement
Here are six intimate portraits of God to help us know Him better. This delightfully illustrated book on prayer looks at how we see or imagine God, and how we can then approach Him. Countering misconceptions about God, these clear truths about the nature of God encourage confidence and intimacy with Him:




God the artist, creator, who loves creative expression.


God as good company, friend, one who enjoys our company and really likes us.


God our protector/provider, redeeming the image of father through His faithful care of us.


God our lifegiver, a nurturing God who gathers us in His arms and picks us up when we fall.


God our teacher, guide, and life-coach: not handing out rules and regulations but giving practical insight for wisdom, health, and good living.


God as physician, healer. He won't always provide miracles, yet God does heal physically and emotionally, so we can approach with expectation and hope.
"This exquisite little book leads us deeper into the most important discovery of our lives: a fuller, more familiar, encounter with God. . . . At the heart of Lisa Borden's message is an ancient certainty that God's love is constantly bubbling up and breaking through in the very simplest stuff of life."

--from the foreword by Pete Greig, author of God on Mute
Author: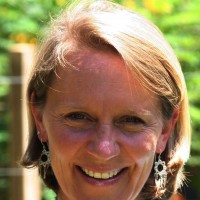 Lisa Borden has spent twenty-two years as a missionary, first among the Maasai in Kenya's wilderness, then among urban tribes of young people in Portugal. She now works in Tanzania, and is on the International Leadership Team of 24-7 Prayer. Lisa is a respected speaker and writes regularly for 24-7 Prayer. She and her husband Byron have four children.