My Favorite Bible Stories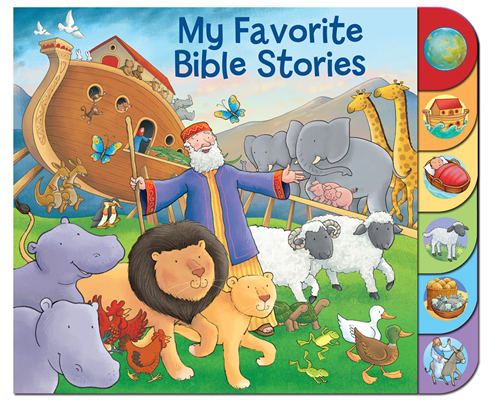 Product Information
Price: $9.99
ISBN: 9780825455537
Edition: November 01, 2011
Pages: 12
Carton quantity: 24
Publication date: November 01, 2011
Format: Board book
Imprint: Kregel Children's Books
Category: Children's Bible Stories
My Favorite Bible Stories
What might the garden of Eden have looked like? How many people did Jesus feed with just two fish and five loaves of bread? Brilliant illustrations bring six Bible stories to life in eye-popping detail: The Creation, Noah and the Ark, Baby Moses, the Feeding of the Five Thousand, the Parable of the Lost Sheep, and Palm Sunday. Busy scenes and more than 175 labeled people and objects will keep kids looking and learning as they soak in the details of their beloved Bible stories.
Author:
Matt Mitter was born long, long ago in Oklahoma City, Oklahoma. He has written dozens of children's books, mostly in verse. Currently, he works and plays in the Bay Area.
After graduating from Cornwall School of Art & Design in 1982, illustrator Steve Cox went to work for a design firm, creating a variety of licensed characters, in particular those for Roland Rat, a British television series. In 1987 he established Primary Design, which quickly became the approved studio for the illustration and design of many well-known TV characters. After about five years, however, despite his success, he decided that the drawing board was more satisfying than running a company, and he returned to full-time illustration. Steve lives in Bath, England.