A vigorous critique of the New Atheism



Since the Twin Towers crashed to the ground on 9/11 there has been no end to claims that religion is dangerous, and that it kills or poisons everything. And if religion is the problem with the world, say the New Atheists, the answer is simple: get rid of it.


But are things really so straightforward? Tackling Hawking, Dawkins, Dennett, Hitchens, and the less well-known but influential French philosopher Michel Onfray--John Lennox points out some of the fallacies in the New Atheist approach, arguing that their irrational and unscientific methodology leaves them guilty of the very obstinate foolishness they criticize in dogmatic religious folks.



Erudite and wide-ranging, Gunning for God packs some powerful punches.
Author: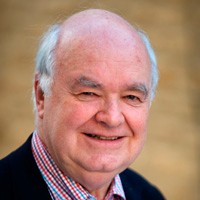 John C. Lennox is Professor of Mathematics at the University of Oxford and Fellow in Mathematics and Philosophy of Science at Green Templeton College. He lectures on Faith and Science for the Oxford Centre for Christian Apologetics. He is author of a number of books on the relations of science, religion and ethics. He and his wife Sally live near Oxford.